The Opticlean 42Q8 is a bagged canister vacuum cleaner of Bissell. It is less expensive than the average, but still offers good performances.
Check the best offers on Amazon.com
Technical Specifications :
| | | |
| --- | --- | --- |
| Motor Power | : | 1320 W |
| Bag capacity | : | |
| Noise | : | |
| Advanced filter | : | HEPA |
| Power cord length | : | 18 ft |
| Cleaning radius | : | 25 ft |
| Full bag indicator | : |   |
| | : | |

| | | |
| --- | --- | --- |
| Power selector | : | |
| Color | : | Black |
| Weight | : | 16.9 lbs |
| Size (inches) | : | |
| Manufacturer's warranty | : | 1 year |
| Price | : | $129 |
Accessories :
Standard floor tool
Crevice tool
Combination Dusting Brush/Upholstery Tool
The standard floor tool can be used on both bare floors and carpets. A pedal is used to set the brush up or down.
The dusting brush/upholstery tool and the crevice nozzle can be stored on-board, in the canister, when they are not in use.
The Quiet Vac Technology decreases the noise as you vacuum.
The Opticlean 42Q8 uses a HEPA filter, which has to be changed when damaged or worn. It requires  bags. These bags can be sealed before removing them, to avoid releasing dust in the room. Four spare bags are provided. There is also a washable pre-motor filter, and another washable foam filter after the motor. The replacement dust bag pack includes 5 dust bags, an HEPA filter and a pre-motor filter.
Pros :
The Opticlean 42Q8 is efficient on hard floors and low-carpeting.
A variable suction power control can be used to adjust the suction to the type of floor being cleaned.
An bag change indicator on the canister warns you when the bag is full. The dust bag compartment does not close if there is no bag, to make sure you don't forget it.
The HEPA filter eliminates small particles and allergens.
The Opticlean 42Q8 is lightweight and compact, and the large handle makes it easy to carry.
The telescopic wand can be adjusted to the height of the user.
Automatic cord retraction.
Cons :
The standard floor tool doesn't have a rotating brush, which makes it less efficient on carpets and rugs.
The Opticlean blows very hot air while in use.
The hose is too short, which is a problem if you're tall (the canister will bump in your feet).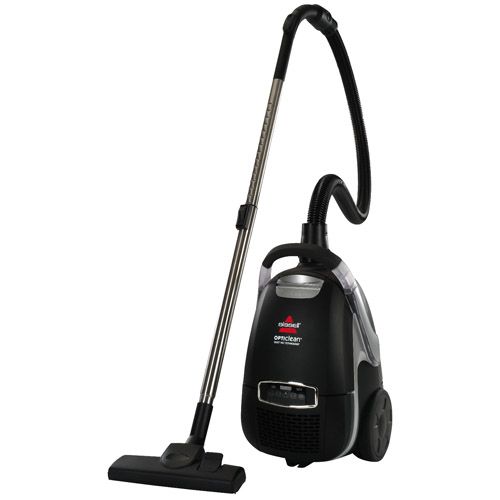 Customer reviews
| | |
| --- | --- |
| | Love all products I have purchase from Bissell and this is no exception. I have a small home so it's the perfect size for the hard wood areas and storage. I scratched up existing wood flooring with an upright so I was told to buy a canister. Also, like the fact it uses a bag. I dislike emptying the bagless type. |
| | |
| | It is small, light, has good suction that is adjustable through 5 levels, and is very quiet. It did a great job on my vinyl flooring and, since the head lacks the rotating brushes typically found on vacuums, it can be used on hardwood and laminate floors without scratching them. I used the brush attachment to vacuum my mini-blinds and the crevice tool to get down in the seams of the recliner. However, this vacuum is absolutely useless for carpets. So, if you have carpets in your house, it can't serve as your only vacuum. If you have only hard floors with no carpet, then this might be a good choice. Or, if you want a second vacuum for upholstery, curtains, and the kitchen floor, then you might find this useful. |
| | |
Our advice :
The Bissell Opticlean 42Q8 is a canister vacuum cleaner which does a good job on hard floors and low carpeting. However, because it doesn't have a rotating brush, it will not be as efficient as more expensive vacuum cleaners on thick carpets.
It's a good choice if you have a small home, with mostly hard floors, and are looking for a cheap but good canister vacuum cleaner.
Rating :