The Dyson DC39 is a bagless canister vacuum cleaner. It's the most powerful model of the Dyson family. It uses the Dyson Ball technology for better maneuverability, and an improved Radial Root Cyclone technology to increase the suction.
Check the best offers on Amazon.com
Technical Specifications :
| | | |
| --- | --- | --- |
| Motor Power | : | 1300 W |
| Bin capacity | : | 2.1 qt |
| Noise | : | 76 dB |
| Advanced filter | : | HEPA |
| Power cord length | : | 21.3 ft |
| Cleaning radius | : | 32.8 ft |
| Suction power | : | 275 W |
| | | |

| | | |
| --- | --- | --- |
| Power selector | : | |
| Color | : | Gray&Purple |
| Weight | : | 22.9 lbs |
| Size (inches) | : | 14.2×19.5×10.2 |
| Manufacturer's warranty | : | 5 years |
| Price | : | $499 |
Accessories :
Triggerhead tool
Mini turbine head
Combination tool
Stair tool
The Triggerhead tool is equipped with an air-driven rotating brush bar, to clean short to medium pile carpets more easily. The brush bar can be turned off from a button on the handle, to switch from carpet to hard floors without having to bend down. It's cleaning path is 10.4 inches wide.

The mini turbine head can be used to clean hard to reach places, upholstery, or even your vehicle. It's tangle-free and can also be used to clean pet hair efficiently.
A combination tool (crevice/brush) and a stair tool are also provided. They can be stored on the handle.
The DC39 Animal has a permanent HEPA filter, to eliminate small particles and allergens. It's also equipped with a pre-motor filter (water washable).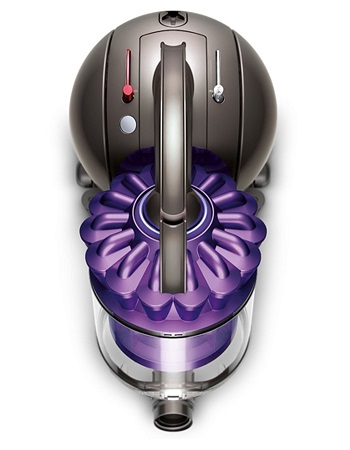 Pros :
The DC39 uses the most recent Dyson's technology (radial root cyclone), and is without surprise very powerful. The cleaning performances are very good on hard floors, and on low to medium-pile carpets. Like the other Dyson vacuum cleaners, there is no loss of suction over time.
The mini turbine head is very efficient to pick up pet hair.
Can rotate easily around the ball, and has a very good maneuverability.
The HEPA filter eliminates the small particles and household allergens, which is useful for asthmatic or allergic persons.
Long term money-saving with a permanent HEPA filter, and no bags to buy.
The plastic bin is transparent, and is can be emptied with the push of a button.
The telescopic wand can be locked on the back of the canister to make storage easier.
Automatic cord retraction.
There is a five years warranty, including parts and labor.
Cons :
There is no power selector, only a suction release trigger on the handle.
We would have appreciated a tool dedicated to hard floors (but it's always possible to buy it separately).
The user setting for the brush bar is not remembered : the brush bar is always on when starting the vacuum cleaner, which could damage hard floors if you forget to turn it off.
When emptying the bin, hair and debris can remain stuck on the internal walls, requiring the user to shake the bin or use a tool to extract them.
It's expensive.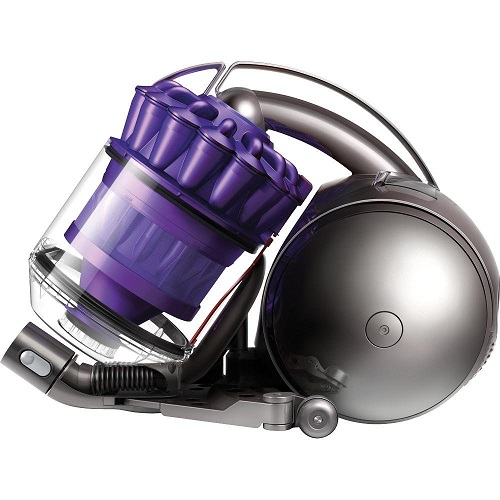 Customer reviews
| | |
| --- | --- |
| | I decided to buy the Dyson canister animal because we have 3 cats and 3 dogs and I wanted something without bags. I love this thing. It's very light, I can use the smaller turbo brush on the stairs and my couch and as far as I can see, all my area rugs are getting fully cleaned. The head and body swivel around so I can get every corner. |
| | |
| | The vacuum runs with a tremendous amount of suction, so much that you might need to be careful on bath mats, very low pile carpets, etc. it is very quiet (the dog isn't afraid of the vacuum anymore) and easy to empty. It picks up a great deal of pet hair, every time I vacuum it looks like I could make another dog! If you have hard floors I recommend you spring for the hard floor tool, it is like a squeegee for hard flooring and works much better than the standard attachment. Two complaints : it would be great if you could keep the hard floor tool and stair tool in the vacuum and the connector for attaching the wand to the ball for storage is useless. There has got to be a better way to keep everything standing during storage. |
| | |
Our advice :
The Dyson DC39 Animal is the one most powerful Dyson vacuum cleaners. It takes advantage of the Ball technology, which improves its maneuverability and reduces its noise output. It's very efficient on hard floors, and on low to medium-pile carpets. It's a very good choice unless you have very thick carpets.
If you don't have pets, choosing the DC39 Multi Floors (which offer the same performances, but without the mini turbine head) is a better choice since it will make you save about 50$.
Rating :