The Dyson DC26 is a bagless canister vacuum cleaner. It uses a level 3 Root cyclone technology to ensure a powerful and constant suction. This technology spins the air very fast and uses centrifugal force to separate dust and debris from the air.
Check the best offers on Amazon.com
Technical Specifications :
| | | |
| --- | --- | --- |
| Motor Power | : | 1320 W |
| Bin capacity | : | 1.8 qt |
| Noise | : | 80 dB |
| Advanced filter | : | HEPA |
| Power cord length | : | 21.6 ft |
| Cleaning radius | : | 36.2 ft |
| Suction power | : | 220 W |
| | | |

| | | |
| --- | --- | --- |
| Power selector | : | |
| Color | : | Gray&Blue |
| Weight | : | 19.5 lbs |
| Size (inches) | : | 13.9×19.3×11.9 |
| Manufacturer's warranty | : | 5 years |
| Price | : | $399 |
Accessories :
TurbineHead tool
Brush tool
Crevice tool
Stair tool
The turbine head tool is equiped with an air-driven brush bar, to clean short to medium pile carpets more easily. It's cleaning path is 10.4 inches wide. The brush bar can be turned off for hard floors.

A crevice tool, brush tool and a stair tool are also provided. They can be stored on the handle.
The DC23 has a permanent water washable HEPA filter (it has to be clean about twice a year), to eliminate small particles and allergens.
Pros :
The DC23 is powerful and very efficient on hard floors and on low to medium-pile carpets. Its brush bar is also particularly efficient on pet hair.
The level 3 root cyclone technology ensures a powerful and constant suction.
The HEPA filter eliminates the small particles and household allergens, which is useful for asthmatic or allergic persons.
Long term money-saving with a permanent HEPA filter, and no bags to buy.
The plastic bin is transparent, and is easy to empty with the push of a button.
The wheels are big and don't get stuck.
The telescopic wand can be locked on the back of the canister to make storage easier.
Automatic cord retraction.
There is a five years warranty, including parts and labor.
Cons :
As most bagless vacuum cleaners, the DC23 noisy (80 dB).
Only average on thick carpets.
It's expensive.
There is no power selector, only a suction release trigger on the handle.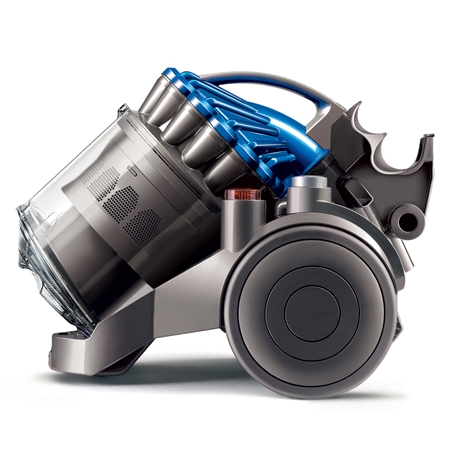 Customer reviews
If you live in a residence that is predominantly hardwood floor, this is one of the better vacuums – no, make that the best. The turbine-powered airbrush works well for moderately shaggy rugs and floors, and while it is not a cheap canister, it is money well spent. I have never sucked out so much dust. Dyson has always scored a very high mark for design and this is no exception. It is quite easy to dump all the dust out from the bin, and I prefer canister vacuums since they're easy to put away. Get the Motorhead if you have fully carpeted floors. For me the Turbinehead is more than enough.
I must admit this is the best vaccum I have ever owned. It does clean my hardwood floors and carpet very well. I have no issues with the turbine brush head for cleaning the carpets and the hard floor and haven't seen the need to buy any additional attachments yet. The cord is long enough that I can clean my entire 2 bedroom (650 sq. ft – they care small in Japan) without having to change electric sockets. It is light enough to move.
The only two cons I have are that it is a bit diffcult to maneuver around corners (my first canister) and the second is that for some reason the dirt does get stuck in the canister – especially where it narrows on the left side. This is annoying as sometimes you do have to reach in to get it out as a strong shake isn't enough to dislodge it.
Our advice :
The Dyson DC23 TurbineHead is the bottom-of-the-range canister vacuum cleaner of the brand, but it's still powerful and has great all-around performances. It takes advantage of the same  technology than the more expensive vacuum cleaners of the brand. The DC23 is adapted to homes with mostly hard floors, or low to medium-pile carpets. It's one of the best value for money in Dyson's range of products.
Rating :