The Dyson DC26 is a compact bagless canister vacuum cleaner. This lightweight model is intended for people living in small houses or flats. It's a smaller version of the Dyson DC23. It uses the Dyson's root cyclone technology, which prevents loss of suction as the bin is filling.
Check the best offers on Amazon.com
Technical Specifications :
| | | |
| --- | --- | --- |
| Motor Power | : | 1100 W |
| Bin capacity | : | 0.68 qt |
| Noise | : | 80 dB |
| Advanced filter | : | HEPA |
| Power cord length | : | 16.5 ft |
| Cleaning radius | : | 26.3 ft |
| Suction power | : | 160 W |
| Depression | : | 26 kPa |

| | | |
| --- | --- | --- |
| Power selector | : |   |
| Color | : | Blue |
| Weight | : | 12  lbs |
| Size (inches) | : | 10.5×12.6×8.3 |
| Manufacturer's warranty | : | 5 years |
| Price | : | $399 |
Accessories :
Carbon fiber floor tool
Articulating hard floor tool
Crevice/brush tool
Stair tool
The carbon fiber floor tool uses nylon bristles and brushes to clean floors more efficiently (although it is not as efficient as a traditional motorized brush for carpets). The brush can be turned off to protect delicate floors. The DC26 has about 60% of the suction power of the more powerful Dyson models, but since its cleaning path is 10 inches wide instead of 12 inches, the difference is not noticeable. It will however take more time to clean the same surface.
The articulating hard floor tool can rotate 180° and is very flat. It is intended for hard to reach places : under the bed or other furniture for example. It can be clipped on the back of the canister when not in use, for easier storage.
A combination crevice/brush tool and a stair tool are also provided. They can be stored on the handle.
The DC26 has a water washable HEPA filter (it has to be clean about twice a year), to eliminate small particles and allergens.
Pros :
The DC26 is very efficient on hard floors. Its carbon fiber tool with a brush bar is also effective on low-pile carpets. It is not intended however for the cleaning of deep carpets.
With the root cyclone technology, there is not loss of suction as the bag is filled.
The DC26 is light and compact, easy to carry and to store, and has a good maneuverability in tight places and in stairs.
The HEPA filter eliminates the small particles and household allergens, which is useful for asthmatic or allergic persons.
The plastic bin is transparent, and is easy to empty with the push of a button.
The wheels are big and don't get stuck.
The telescopic wand can be locked on the back of the canister to make storage easier.
Automatic cord retraction.
There is a five years warranty, including parts and labor.
Cons :
The DC26 is expensive.
The carbon fiber floor tool is pretty narrow.
As most bagless vacuum cleaners, it is noisy (80 dB).
The power cord length is a bit short (16.5 ft) : be careful if you have large rooms.
The bin capacity is small : at 0.68 qt, you will have to empty it often.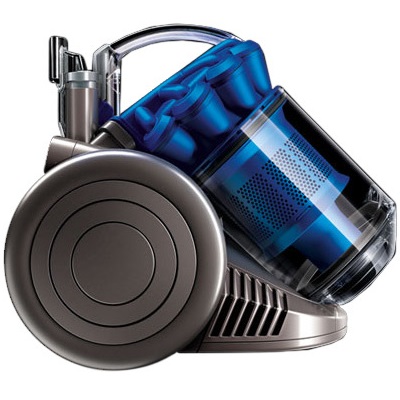 Customer reviews
| | |
| --- | --- |
| | This vacuum cleaner is great for what I bought it for: to clean crumbs and dog hair from hardwood and tile floors. It also works pretty well on rugs. The suction is great and it picks up everything. It's pretty satisfying to empty the dirt cup at the end. My only criticism is that it does NOT work well on wall to wall carpet. If I had planned to use this vacuum for carpet, I'd be pretty unhappy. Its nice, small size fits well under the lowest shelf in my pantry so I can keep it right in my kitchen. Overall, a good vacuum, but only for hard floors. |
| | |
| | This small canister vacuum exceeded my expectations. We have had it a month, use it for high traffic areas, have a very hairy dog that sheds constantly-year round-as well as two active teenage children. I am very pleased with the sucking power, love the compactness as well as the many attachments and flexibility of use. It has been especially great for stairs, carrying around to clean molding, wall corners, and ceilings. What is probably best is how easy it is to clean the vacuum, especially the beater brush. This is our second Dyson product. The attention to detail and craftsmanship is amazing. Does it cost a lot, yes. Is it well worth the cost–absolutely. They say you get what you pay for, and with this vacuum you get a lot! |
| | |
Our advice :
The Dyson DC26 is one of the smallest Dyson canister vacuum cleaners. It is intended for homes with mainly hard floors, or low-pile carpets. This model is lightweight, compact, easy to carry and to store, but as a result it's also not adapted to large houses. It is a good choice if you have a small home, and no thick carpets. Otherwise, the more powerfull DC23 will be a best choice.
Rating :