The Miele Olympus S2121 is a bagged canister vacuum cleaner. It's the standard model of the S2 series, which are the cheaper canister vacuum cleaners of Miele, but still take advantage of the same motor than the high-end models.
Check the best offers on Amazon.com
Technical Specifications :
| | | |
| --- | --- | --- |
| Motor Power | : | 1200 W |
| Bag capacity | : | 4.76 qt |
| Noise | : | 68 dB |
| Advanced filter | : | Super Air Clean |
| Power cord length | : | 20 ft |
| Cleaning radius | : | 29.5 ft |
| Flow rate | : | 141 ft3/min |
| Depression | : | |

| | | |
| --- | --- | --- |
| Power selector | : | |
| Color | : | White |
| Weight | : | 9.5 lbs |
| Size (inches) | : | 9.4×22.7×15.2 |
| Manufacturer's warranty | : | 1 year (7 years motor&casing) |
| Price | : | $329 |
Accessories :
Standard floor tool SBD350-3
Dusting brush
Upholstery brush
Crevice nozzle
The combination floor tool can be used for smooth floors or carpeted surfaces.
The dusting brush, upholstery brush and crevize nozzle can be placed on a VarioClip, attached to the tube (VarioClip system).
The S2121 uses Hyclean G/N bags. It uses a Super Air Clean SF-SAC30 filter, which catches 94% of the particles bigger than 0.3 microns. If needed, you can buy a Miele HEPA filter to improve the filtration level.
Pros :
Good cleaning performances, especially on hard floors, with a reduced electrical consumption.
The power selector on the canister, with 6 settings, can be used to adapt the suction (and the noise) to the floor that you are cleaning. An override opening is also accessible on the wand handle.
The stainless steel wand is telescopic and can be adapted to your height. The wand can be placed vertically in a holder on the side of the canister for easier storage.
The bags have an auto-seal closing, which prevents the release of dust and allergens when you replace them.
An indicator warns you when the dust bag is full.
The S2121 is lightweight (9.5 pounds) and compact, easy to handle, and easy to carry in the stairs if you need to.
Automatic cord retraction.
Miele has a reputation for producing high quality household appliances. The 2 years manufacturer's warranty (and 7 years for the motor and casing !) is a very good sign. The average life span of their products is about 20 years.
Cons :
The power cord might be too short (20 ft) if you have large rooms.
The rubber wheels are small and could get stuck in thick carpets.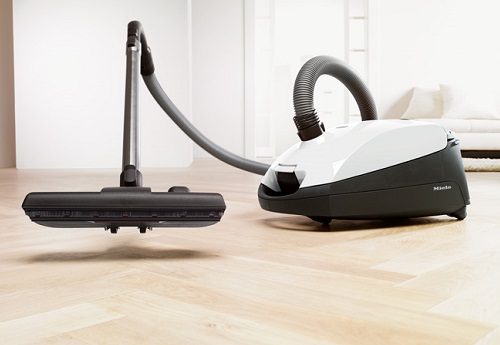 Customer reviews
| | |
| --- | --- |
| | I recently purchased a Miele olympus canister vacuum and overall am very pleased. I feel this is a very good vacuum for non-carpeted flooring and smaller homes/apartments. It is lightweight & easy to carry, the powercord is short but this is less of an issue in smaller living spaces. The small size makes for easy storage in a small space. The suction is excellent and depending on what you are vacuuming you can change the suction power which is a very nice feature. The tools that come standard fit well and so far work good on upholstory, wood/tile flooring, cleaning corners of the ceiling and small area rugs. The crevice tool seems a bit short. I like that the exhaust air blows upward instead of out the back of the unit which only blows floor dust all over the place. The unit is quiet to run. The dust bags seem well reinforced and easy to change (though I've not yet had to do this). Overall…good value and good performance for a good brand. |
| | |
| | I never ever thought that I would say this about a Canister Vacuum, but I love it. This machine works great, and I can have a conversation while running it (so it's not loud at all). The only thing I would change is that I would increase the cord length. That gets a bit frustrating, but I can survive since it works so darned well! I recommend activating the carpet mechanism at all times if you have hardwoods. That is because the suction is so strong that I feel that it could scratch the floors. Otherwise, I love it. |
| | |
Our advice :
The Miele Olympus S2121 is a good canister vacuum cleaner, silent and efficient on hard floors. It is a very good choice for small to medium houses, with mainly parquet or hardwoord, and only area rugs.
Rating :